Artists Ralph and Vera Baney were born in Trinidad and Tobago, a Caribbean twin island state.They worked in the United States of America. They were both internationally renowned artists with works in all parts of the world. Ralph Baney was a sculptor and Vera a ceramist.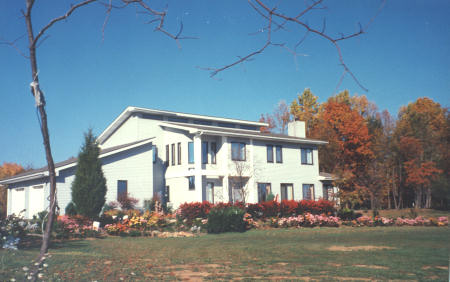 Their residence (photo at left) in Maryland comprises beautiful grounds, their Art Gallery and the studios of Ralph and Vera.
The Baneys left Trinidad in 1971 to study at the University of Maryland. After completing their studies they decided that the opportunity of growth and challenge were better in the United States, so they adopted it as their new home. Ralph got a fulltime position at the Community College of Baltimore County and Vera got an adjunct position at the same institution. They taught, created art, exhibited their work and also raised a son.
They maintained contact with their native country, visited frequently and held exhibitions. They have both been honoured by the Government of Trinidad and Tobago and by the University of the West Indies.
Vera suffered a severe stroke in 1999 which left her paralysed on the left side. However, she continued making ceramics, but now with one hand, until her passing in 2008. Ralph died on January 21st, 2014 of an aortic aneurysm. (click here for article in Baltimore Sun)and Eulogy by Dr Clarence Madhosingh- click here
| | |
| --- | --- |
| In 2007 Ralph built a detached studio with better lighting and a ten foot high ceiling. | THE GALLERY |