Trinidadian-born sculptor, Dr. Ralph Baney, has been attracting international attention for his work. Photographs of his sculptures have been reproduced in three sculpture books including "Masters of Wood Sculpture''.
He has been admitted to member­ship of the Royal Society of British Sculptors as well as the .Sculptors Guild Inc. in New York, both of which are select professional sculpture societies.
This past summer Dr. Baney was involved in what was his most important experience at the international level. He participated in an International Marble Sculpture Symposium in Yugoslavia where he worked for six weeks on a monumental marble sculpture which will be installed in front of the City Hall in Valjevo, located about 75 miles south of Belgrade.
Recently his sculptures were selected for two juried shows of contemporary sculpture in Washing­ton D.C.
To top off his achievements this year, he is currently having a one man show of his wood sculptures at the prestigious Washington County Museum of Fine Arts in Hagerstown, Maryland.
The works in the show consist of wood sculptures executed in a variety of hardwoods, some import­ed from Trinidad. The sculptures vary in scale and concept, but all of them have the character of an inward force pushing out to create bulges reminiscent of the female human form, and of seeds in pods. Seeds and the egg, both symbolic of the potential of life, have intrigued Baney and frequently appeal in his works.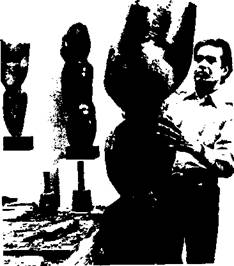 The artist notes, "As a wood sculptor, my method of work is to let the wood dictate in what direction I should go. I respond to the natural torsions of the wood and cooperate with it rather than fight against it... In most cases, I try to get the ultimate in refinement of form and surface quality in order to bring out the inherent beauty of the material."
Ralph Baney sculptures are in museum and private collections in Canada, Europe, Australia, the United States, and in his native Trinidad. He studied at Brighton College of Arts in England, Alfred University and at the University of Maryland where he received his M.F.A. and Ph.D. degrees. Now living in Baltimore, he and his wife, ceramicist Vera Baney, are on the art faculty of Dundalk Community College.
Dr. Baney has exhibited widely and has received numerous prizes for his sculptures. He was formerly senior art officer in the Division of Culture in Trinidad.
"Art alone supplies an enjoyment which requires no appreciable effort, which costs no sacrifice and which we need not repay with repentance" Schiller